Chimney Scanning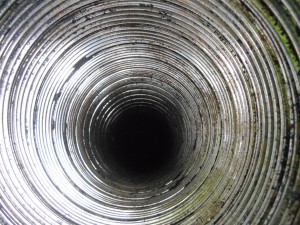 Appalachian Chimney Service offers state-of-the-art video chimney scanning services to identify problems and the current state of the inside of the chimney using high-tech chimney inspection cameras.
The Chim-Scan® video inspection system and chimney cleaning tools are used in standard chimney flues sized from 3″ venting pipe to larger 13″x18″ fireplace flues. Even larger sized commercial flues require special packages to stabilize and operate the camera.
The video inspection involves using a video scanner that produces imagery taken from inside the flue. This allows us to see problematic areas that might be missed otherwise, getting into darker areas that are hard to see upon visual inspection. Poor operation can be caused by condensates and by products hidden in the chimney that the video inspection easily detects and can prevent costly repairs in the long run. Once the chimney cleaning has been performed the video scanner can ensure that the chimney has been properly cleaned.
Chimneys that can be serviced by the Chim-Scan® systems include masonry chimneys, prefabricated chimney flues, and chimneys designed to vent oil, gas, wood, coal, pellet or corn burning appliances. The Robotic vision systems can also be used to inspect and clean air duct systems.
Chim-Scan® is THE chimney sweep camera of choice, and Appalachian Chimney Service is proud to offer this premier service. We stand behind the quality of our work and invite you to see why chimney scanning is the ultimate solution for chimney inspections and cleaning.