Maintain Your Chimney and Avoid Chimney Fires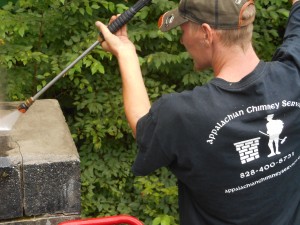 Are you one of the many homeowners neglecting their chimneys? While your chimney provides architectural interest to your home and creates ambience during the colder months, it is critical to note the primary function of your chimney: to safely carry toxic gases up and out of your home so that your air stays breathable. Much like a vent or window, your chimney has a serious job to do– and it requires special care to work efficiently.
Incorporating a rigorous chimney care routine will help keep your chimney working properly and protect you against the dangers of chimney fires.  In the United States, chimneys cause roughly 25,000 residential fires every year (see the statistics).  A healthy and clean chimney is the best way to protect yourself, your family, and your home against accidental chimney fires. In this blog post, we will discuss how chimney maintenance can help you protect against a fire.
It seems implausible for your chimney to catch on fire– it is just a stack of bricks, right? While this is true, your chimney is much more complicated than a stack of bricks.  Every time you burn a fire in your fireplace, soot, creosote (a flammable carbon byproduct), and other debris build up within the flue liner.  Without regular cleaning, this debris can ignite and cause a devastating house fire. The best way to prevent chimney fires is to keep your chimney clean and stay on top of your annual chimney maintenance.
Your annual chimney maintenance starts with an inspection. National Fire Protection Association (NFPA) recommends that you have your chimney inspected once a year. Keep in mind that if you live in a cold region, chimney inspections may be in high demand- so schedule yours accordingly before the cold weather and wood-burning season sets in every fall and winter. A good rule of thumb is to schedule your inspection for around Halloween. You could also choose to schedule an inspection around the time your kids go back to school!
Your inspection will give you a clear picture of your chimney's health and your next steps. After the inspection, it is time to schedule your chimney cleaning. Yes, you can clean your chimney yourself- but it is difficult for an untrained individual to acquire the right tools to clean their chimney to the recommended standards. Hiring a chimney sweep is often the best answer. These highly trained professionals know how to work indoors in a way that maintains the cleanliness of your home. This prevents unfortunate accidents that can pollute your indoor air and cause a mess. A chimney sweep carefully draws smoke out of your chimney and removes any creosote deposits from your system.
Here is a complete list of the ways that you can prevent chimney fires:
Annual chimney inspection

Professional chimney cleaning

Burn seasoned wood in your fireplace

Install a cap on your chimney

Install a spark guard
You can enjoy your fireplace and stay safe at the same time. Simply be proactive about your chimney maintenance and take precautions to minimize your fire risk.
Feel free to call us for any of your chimney questions and/or to schedule a maintenance: (828) 400-8731